2016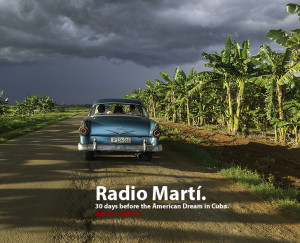 Titolo libro: Radio Martí. 30 days before the American Dream in Cuba.
Prezzo: € 4,99
Info pubblicazione: 2016, 82 p., ill.

"Stavo leggendo le notizie sui quotidiani quando mi balza all'occhio "…Barack Obama ha intenzione di porre fine all'embargo contro Cuba…". L'immagine che mi viene in mente sono delle mani che buttano letteralmente un popolo in avanti di 50 anni nel giro di pochi giorni. Solo l'idea di vedere il cambiamento mi emoziona. Preparo i documenti e parto per 15 giorni, direzione Cuba. Il tempo di scendere dall'aereo e mi trovo a trattare con un cubano alla guida del suo taxi particular. Mi sembra la persona giusta, che conosce Cuba e la ama per quello che è. Così si attraversa insieme il mondo contaminato e incontaminato dell'isola, tra Vinales, Santa Clara, Cinfuegos e altre località minori. Si crea un rapporto che mi porta ad essere ospitato a casa sua e lì comprendo sempre meglio l'orgoglio del popolo cubano. Nello stesso tempo ho capito che probabilmente il loro non è il sogno americano, ma è americano il sogno di Cuba. Da qui nasce il titolo del libro, che prende spunto da una radio di inizio anni 80′ (Radio Martì) che gli Americani puntarono su Cuba col fine di fargli immaginare, forse, un mondo migliore."
Per ricevere il libro cliccate sul pulsante sottostante "buy now". Sarete indirizzati alla pagina Paypal e dopo il pagamento riceverete il link per scaricare l'ebook fotografico.
To buy the book click on the button below. You will be directed on page Paypal and after payment will receive the link to download the photo ebook.

Per acquisti alternativi (libro cartaceo, acquisto con Postepay o Bonifico) cliccate sulla chat e scrivetemi, oppure inviate una email a info@baldosimone.it! For any question or information (paper book, payment with bank transfer) push the chat and write me or email info@baldosimone.it!